Application 1. SteamTurbines of different powers.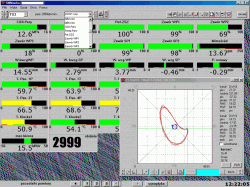 In this application, the system covers four machines: two by 50 MW, one 65 MW and one 30 MW. Different set of measurements is performed on each machine, the most extensive one including the following typical measurement paths:
5 absolute vibration channels to register vibration velocity
10 relative vibration channels to monitor 5 bearings in 2 axes
1 channel for axial vibration
eccentricity
axial position
2 channels of thermal expansion for machine casing
2 channels for rotor relative expansion
7 channels for measurement of valve position
14 channels for temperature measurement of bearings(radial and thrust)
phase marker
rotating speed channel
plus non-Technicad related measurements, but integrated with the monitoring system through Data Acquisition Unit:
active power
reactive power
steam temperature
steam pressure
Due to the number of measurement channels, the
JAD16/32
Data Acquisition Units are used. On three of the machines the power unit control systems are employed to visually represent signals received from the
TNC2000
. The fourth machine is additionally equipped with operator station with
SMMoperator
software. Data from all four machines is output to two computer working stations incorporating
SMMturbo
application software for use by diagnostic engineers.