The Rotating Machinery Diagnostics Services Company "TECHNICAD", Ltd.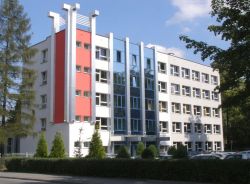 The Rotating Machinery Diagnostics Services Company TECHNICAD was established on 1 September 1990. The company is located in the city of Gliwice. The concentration of scientific institutions and production plants in our region is remarkable. One of the biggest Polish technical universities is located in Gliwice, too.

The foundation for our activity is the experience gathered through all these years, the responsibility, commitment and reliability which have translated themselves into our achievements of today.

We are active in the field of implementation of technical diagnostics in industrial plants for the purpose of achieving measurable improvement of technical and economic performance of our customers.

We conceive and implement comprehensive diagnostic solutions for rotating machinery, like turbo- and hydrogenerators, compressors, blowers, ventilators, electric motors and others, incorporating our own instruments. We render diagnostic services and offer trainings and courses. Our core products are: the TNC2000 and TNC2010 systems designed for supervision of rotating machinery in terms of rotation speed, absolute and relative vibrations, axial displacement, thermal expansion and bearing temperature and the portable measuring instruments: vibration meter CMD-3, rotation speed meter LMD-1 and vibration analyser/balancing devices. We also offer application software for visualization and archiving of data and for diagnostic testing of rotating machinery.

Our products find application in power plants, iron mills, mines, refineries and chemical plants, where they many a time have prevented a failure while the measurements and analyses revealed the root causes of bad behaviour.

TECHNICAD's high standing on the local market can be contributed to our being quality- and new technology-minded. In our products, we use electronic components, materials and information technology of renowned world makers. ISO9001 Quality Management System has virtually eliminated claims, increased work efficiency and, last but not least, allowed us to be competitive on the monitoring systems suppliers market.

The products which we deem especially successful are the MDS Series eddy-current displacement sensors, AT Series industrial accelerometers and VMSH measurement modules along with proprietary application software. The sensors are patented.

Our products are API670, ISO7919 and ISO10816 compatible.

Some products have special versions. Some components of the TNC2000 System are certified for use on ships. The CMD3 vibration meter is approved by the Central Office of Measures in Warsaw. Actually we develop products suitable for tropical environment and intrinsically save applications.

We continuously upgrade our products. Nearly half of our employees are involved in the research and development work, making improvements to the sensors, developing new electronic devices and application software or looking for new applications for our instruments. Our own laboratory equipped with specialized testing equipment like vibration shaker, impact tester or climatic chamber makes such development work possible.