Application 3. 15MW Hydrogenerators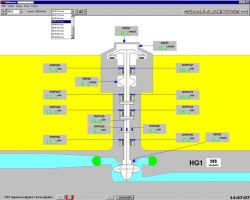 In this application, the SMMhydro system version is installed on four hydrogenerators, having speed of 214 rpm (rotation cycle time 3.75 Hz). The following set of measurements is performed for each machine:
2 channels for absolute axial vibrations
2 channels for absolute radial vibrations
8 channels for relative vibrations of four bearings in two axes
3 channels for axial movement
rotating speed measurement
phase marker
For data acquisition, the JAD16/16 Data Acquisition Units are installed. Data access is limited to only one user and the data is used mainly for diagnostic purposes. Additionally, signals received from TNC2000 are fed to a protection system and to operator's terminal for visualisation. To keep investment costs down, the communication between data acquisition unit with diagnostic terminal and protection and visualisation systems is via common optical network.