Application 5. Chlorine compressors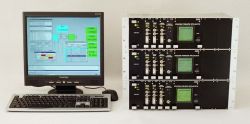 In this applications, the system supervises three chlorine compressors. The measurement modules VMSH and the Rsskaner and RSmonitor software applications are used. This system ensures safe operation of the machines, protecting them against excessive vibrations. Visualisation and automatic registration and archiving of data in preset time intervals and on exceeding the limits is possible as well. The following set of measurements is performed for each machine:
1 channel for absolute vibrations
2 single axis channels for relative vibrations
axial movement
All measurement modules with power supply for each machine are contained in a single Euro format rack. Additionally, the rack incorporate the system indicator PW to provide possibility for machine room operators to take local readings. The system allows also to conduct diagnostics; on operator's initiative, the VMSH modules output data to observe visualized vibration signals and their spectra. Due to the budget limitations and single axis channel configuration, trajectory tracking and phase marker options have not been installed on the system.
RS-485 serial port, using MODBUS protocol, is used for data transfer and on-line communication with the diagnostic terminal at the speed of 115200 baud per second and distance of 500m.